To complete our little collection on mini trips away Joe and I went to St Ives (Cornwall) last week to spend a few days with Emily in her family's house. We had a fantastic time and with weather was brill. I have wanted to visit the Eden project for ages so as we were down that way we went. It was fantastic, especially as in the tropical dome they had a Cameroon section - so we spent ages looking at all the familiar plants. The domes are fantastic and the variety of plants they grow is amazing. I was taken by how well they use the space and you do not only walk around the floor of the dome but go up in to the top. We had a great day there.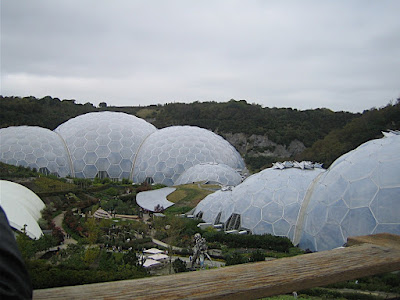 We had some fantastic food - as holidays is all about the eating for Joe and I. I had some delicious grilled Mackerel to continue my reminiscing about Cameroon and it was so tempting to eat it with my fingers but thought better of it.

Emily and I even donned wet suits and went bodybording which was great fun, I rode some of the waves pretty well and at one point a seal even joined us in the sea!